"Best $5 investment a foodie in Los Angeles could ever make."

HebrewNational

"If you live in Los Angeles then this app is a must."

Sam

"What's better than eating at amazing places and saving money? Nothing!!"

Natalia562

"I get to save money for eating out and getting pampered! It doesn't get any better than that!"

SaraRez

"Found several deals near my work that will help me save a bunch. I need my money."

Gitai

"Save $5 at my favorite restaurant every time I visit? Deal for me! Worth it just for that!"

anoordc
Get The App


Become an InvadeLA member and save up to 20% each visit at hundreds of Los Angeles merchants with just the flash of your phone - no points, codes, or coupons required.
Never Pay Full Price Again
Almost all loyalty programs require multiple visits before you're able to redeem their offers. Ours are accessible on your very first visit, and every visit afterwards.


Every registered user is given one free redemption to use at anytime with no expiration date. You may purchase a full year of membership with unlimited usage for only $4.99 from within the app. This small fee can be easily paid for with the money you save on your first redemption, so it's basically free.
Are you a business owner and interested in joining InvadeLA? Join Now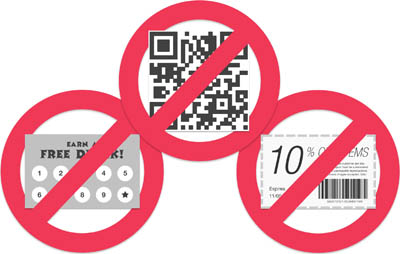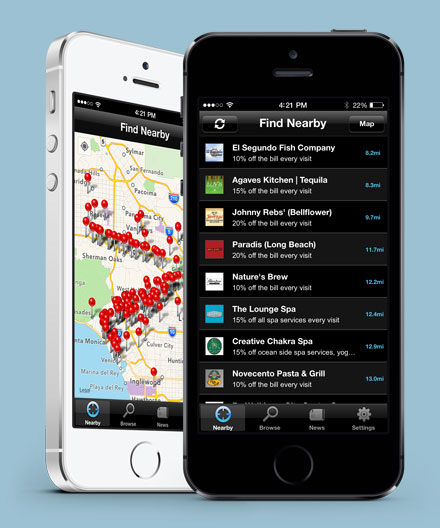 Find Deals Nearby
Open up the app and immediately see participating merchants nearby using the List or Map view. New merchants are added throughout the year so the value of membership increases over time.
How To Redeem
Before you pay, hit the big shiny red button on the merchant's profile. There's no advanced purchase necessary and you'll never need a passcode, print-out, or coupon to get a great deal.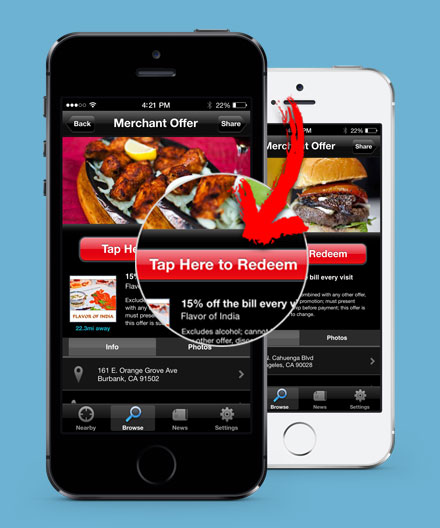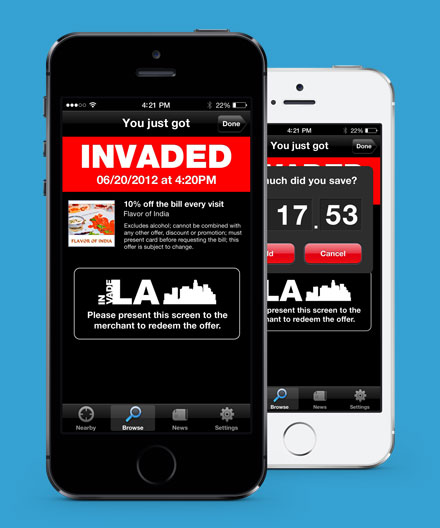 Save Some Moolah!
Present the redemption screen to the merchant to save money on your bill. Don't forget to keep track of your savings throughout the year!
15% Off

Agaves Kitchen | Tequila

10% Off

Barney's Gourmet Burgers

15% Off

Bon Vivant Market & Cafe

15% Off

Creative Chakra Spa

10% Off

El Segundo Fish Company

15% Off

Exhale MindBodySpa

15% Off

Factor's Famous Deli

15% Off

Feast From The East

15% Off

J Beverly Hills Salon

10% Off

Jerusalem Pizza & Sushi

20% Off

Lipstic Salon & Spa

15% Off

Live Well Pilates

15% Off

Rockwell Table & Stage

10% Off

Shish Mediterranean

15% Off

Sofi Greek Restaurant & Garden

15% Off

Something's Fishy

20% Off

Sparadise Thai Spa

15% Off

Spot Gastropub & Gaming Lounge

15% Off

Studio City Vapor

10% Off

Sunset Ranch Hollywood
"To live and die in LA, where everyday we try to fatten our pockets."
That's right, we quoted Tupac.
Join Our Network
Becoming an InvadeLA partner is easy! All that is required is a physical location, some basic information about your business, and your offer of choice - 10%, 15%, or 20% off each visit. Once verified, we can have your profile up and running within 24 hours.
Sign Up My Business
That's right, we dont charge you a dime. Our revenue comes from app sales, so setting up and marketing your offer is free of charge. We're not involved with the transaction and there are no hidden fees whatsoever.
Attract everyday business by telling your customers about your InvadeLA offer. Studies have shown that loyal customers account for more than 50% of sales, visit 20% more, and spend 5% more than the average customer.
More and more people rely on their smartphone to find the best deals around them. Rest assured that members can view and access your offer from anywhere with just a few taps using our mobile app.
Everyday, people are sharing your business within their social circles. We have successfully built the tools to capture this data and push your offer to these users when they do so.
Stay tuned. Read our news
Close X
Terms & Conditions
You, "the Merchant", agree to provide InvadeLA members with a promotion of 10%, 15%, or 20% off the bill so that InvadeLA may advertise this offer through its website, applications, and any other forum for publicizing offers. This promotion shall be determined by the Merchant, and shall be communicated to InvadeLA either by the submission form on the InvadeLA website, by email, or by phone. Restrictions to promotions must be expressly communicated, and InvadeLA shall not be held responsible for the Merchants' failure to expressly communicate restrictions or limitations of their promotions. Promotions communicated to InvadeLA without restrictions or limitations will be valid until a communication to revoke has been properly made by the Merchant. The Merchant acknowledges that when provided with a promotional offer, InvadeLA will post the promotion on its website, mobile app, and other marketing channels which are visible to the general public.
Redemption of promotions can ONLY be made when presented with an active membership status via mobile application. The Merchant agrees that they are responsible for making sure employees and staff are fully aware of the promotion being offered to InvadeLA members. InvadeLA bears no liability for loss, damage, or any discrepancies which may arise between the Merchant and InvadeLA members. This includes negative feedback, ratings, reviews, or comments that arise from the failure of the Merchant to honor their promotion.
In addition, the Merchant acknowledges and grants a limited license to InvadeLA to post the Merchant's logo, photos, and other media related to the Merchant on its services so that members will recognize them as an official InvadeLA affiliate.
These terms shall continue and be effective upon submission of an offer/promotion to InvadeLA until terminated by either party by giving seven (7) days written notice to the other party. Both parties will continue to honor these terms until the last day of the 7-day termination period.
Close X
InvadeLA Window Decal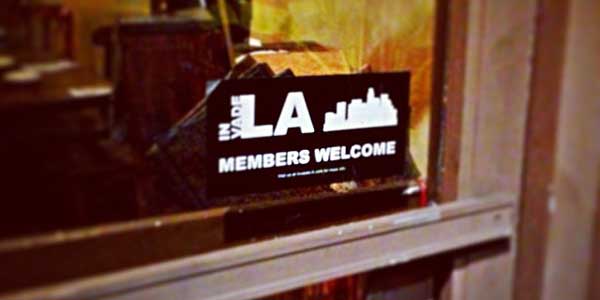 You may post up the InvadeLA decal sticker on your storefront door or window to attract members. If "Yes" is selected, we will include this in your Get Started packet for free.